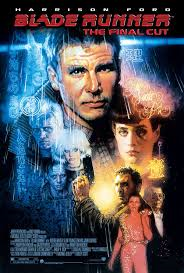 What genre is this movie? What characteristics and genre conventions have you found during the screening? Please post pictures or clips to support your comments, if available.
Blade runner (Ridley Scott, 1982)
Cast: Harrison Ford, Sean Young, Rutger Hauer
Genre: Sci Fi, Action, Thriller
I watched Blade Runner for the first time and rather enjoyed it, I expected I would enjoy a film by Ridley Scott as I throughly enjoyed Alien. The story very clearly is Sci Fi and set in the future this is shown by flying cars, and buildings that are decorated in a similar way to that of a spaceship. If that wasn't enough to suggest the setting than the lower titles in the corner saying 2019 certainly does. The basic plot of the film for anyone who hasn't seen it is about a man named Deckard who is forced out of retirement in order to continue his job as a Blade runner - a futuristic version of a police officer that tracks and 'retire' kill replicants. Replicants are biorobotic androids that look similar to humans. The way the film is done makes you fear the replicants to begin with as they are introduced as violent, there is a scene with a replicant and a person engaging in a Voight-Kampff test - a test developed to tell the difference between a human and a replicant. The replicant in this scene is becoming more annoyed at the questions and eventually retaliates by shooting the human. Through this introduction we feel as though these are nasty androids that should be destroyed.
The cinematography shows the setting brilliantly through its use of dark lighting.
It also manages to make the city look vaguely similar to Tokyo city.
the lighting is similar and framing even the narrowness of the streets is the same. It is a brilliant way of making the scene look both modern and present day.
Moving on to the story I feel it was interesting plot, I felt that Harrison fords character lacked emotion however that could have been Scott's way of suggesting that Deckard could potentially be a replicant. One scene I felt that was unnecessary in the film was a scene between replicant Rachel (Sean Young) and Deckard (Harrison Ford) the scene is meant to show a romance blossoming between the two. However the scene did not convey this to me, what I saw was Deckard about to kiss Rachel, she rejects this and trys to leave, Deckard then blocks Rachel from leaving and slams her violently against the wall, proceeding to order her to tell him to kiss her she complies and kisses Deckard looking quite uncomfortable. This scene disturbed me and didn't really move the story along, I felt it was a poor attempt at including a romantic storyline, it seemed forced and I would argue that the film did not need a romantic story line at all. There wasn't romance used in I Robot (2005) and the story worked out fine, a platonic friendship worked in order to have the protagonist see things in a different light. A good argument for this scene may be to suggest that Deckard is in fact an anti-hero, this is a good point, although I still feel that being violent and forceful in order to get a romantic relationship was unnecessary to the plot of the film.
The editing kept in pace with the film, in order to show change of location the cuts were done slowly. Although during fight scenes the shots change quite quickly and give a sense of disorientation, I think it is an excellent method of forcing the audience to feel what Deckard is feeling.
Clothing was used as a way of determining class for example people out on the street are dressed in what look like rags or casual clothes, people that are thought of as higher class wear dresses and suit and tie. Excellent use of clothing in order to show segregation of classes and also in order to show the setting.
I enjoyed Blade Runner up to a point as the scene involving Deckard and Rachel's 'romance' made me want to turn the film off and hide the Dvd given how uncomfortable and angry the scene made me feel. Other than that however I pushed on until the end and found that in an interesting turn of events the film is shown through the eyes of the villain as by the end of the film you feel sorry for the replicants as all they really wanted was to live longer than four years.

AmyLou93




Student Number

: 748334


Posts

: 4


Join date

: 2015-10-02


Age

: 25



Interesting post, AmyLou, thank you very much for starting the discussion!!
I think there is an issue with the pictures, which haven't been shown. Could you send them to me via email, so I can add them?
Well identified as Sci-Fi for genre, as you mention, it is quite clear. Look into characteristics of
Film Noir
if you can, and see if you could identify any in this film, as "Neo Noir". Good reflection on the costumes representing different class. One thing to note, and that I did not expect you to know, is that costumes in this film are relevant for many reasons. Up to this point the Sci-Fi conventions implied that in the cities, when representing society, people wore clean sleek costumes, usually in white, gold and silver. This film, however, not only introduces different kind of costumes, but also sets up the scene for other dystopian films that feature broken human societies. Have a look at this:
http://www.denofgeek.com/movies/523128/what_styles_defined_specific_eras_of_science_fiction.html
As you mention, the inclusion of characters that are robots, part robots or have robotic parts, is a common feature in Sci-Fi films. For your script report, if it were on this film, it would be good to see you using terms such as "dystopia".
Interesting commentary on the unneeded romance. This ties with the creation of the Hero, which is the topic for week 2.
Good work!


---
Permissions in this forum:
You
cannot
reply to topics in this forum