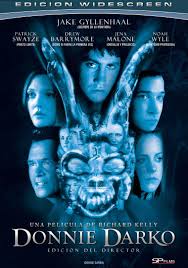 What genre is this movie? What characteristics and genre conventions have you found during the screening? Please post pictures or clips to support your comments, if available.
At first glance, Donnie Darko appears to be a psychological thriller. And to an extent, it is. Psychological thrillers force the viewers to question reality. Donnie's unstable emotional state leads to a path of destruction with mysterious consequences. Many scenes are opened and closed with fades, adding mystery to unanswered questions. 

The first shot of the film is of the mysterious young man waking up on the ground. This introduced the protagonist in an unconventional way. This creates discomfort from the outset.

However, as the film develops, it becomes a science fiction film. The notion of time travel occurs as the plot unravels. Donnie is apparently given the option to turn back time in order to save the life of his girlfriend, Gretchen.

Donnie's psychological state makes the viewer question whether he is a reliable narrator. This challenges what they have been watching. This creates questions when the film reaches its climax. Did Donnie time travel? Was Frank the rabbit man telling him what to do? Or did none of the events occur and Donnie simply die in his bedroom? All of this could be doubted until the final wave between Gretchen and Rose...

melfiol




Student Number

: 722474


Posts

: 3


Join date

: 2015-10-06



With this being the second time I have watched the film 'Donnie Darko', I had already uncovered the general consensus of the film such as its underlying themes and genre from my first watch. Although, on my second time around I seemed to uncover a lot more than initially expected. I found that the film belongs to two major genre categories, alongside some sub-genres, which are science fiction and drama. I find the film pulls towards the drama category due to the outlying storyline of a 'troubled teen' in high school that falls in love with a girl. Although, it is clear to see that the story is much more than that. I found aspects of the sci-fi genre initially stemming from the character 'Frank'. He provokes links to time-travel and wormholes, then even provides Donnie with the opportunity to turn back time, which he then explores causing this to become an apparent characteristic, which is usually referred to in most films of this genre.
 
The overall plot of the film is about a teenage boy named 'Donnie' who is a regular sleepwalker and therefore finds himself waking up in many unusual places, such as; a golf course, a high road and other peculiar spots. Donnie also regularly visits a phyciatrist and is believed to have schizophrenia. Within the film, he discovers a character named 'Frank' who is considered to be his imaginary friend, although, this is the character that aids Donnie to become destructive and commit many dangerous acts, such as; burning down somebody's house and even bursting the schools water pipes with an axe. Although I am unfamiliar with the director of the film, Richard Kelly, I really felt like the influence of his style came through within this film as upon research I have discovered, this director often uses steadicam based tracking shots, satirical elements and enigmatic plots, as seen sparsely within the film. The musical aspect of sound also plays a large role in a lot of Kelly's films, with the closing segment of the film proving one of the most significant. This is when we are shown a montage of several characters awakening from their dreams to the song 'Mad World'.
 
Overall, personally I enjoyed the film, I really appreciate films and stories that force the audience to think a little deeper than what is just on the surface. Therefore not just relying on what you are so easily given yet leaves you with a feeling of discontentment because you don't feel totally confident with what the story is about. An interview with Jake Gyllenhaal, who plays Donnie within the film, really caught my attention as he states how "nobody can really come to a finite objective or conclusion". Therefore even the actor who played the protagonist himself cannot depict the full meaning of the story, because maybe the overall intention was for their not to be one.

LSSOMCKA




Student Number

: 714744


Posts

: 4


Join date

: 2015-10-02



Donnie Darko is one of those films that encourages its audience to think about what they're watching. The audience isn't spoon fed information and although all the clues are still there, the director's choice to not lay out all of the information on the screen make defining the genre(s) of this film difficult after viewing. It's only until further research where it becomes clearer.
The film's genre is a hybrid of both drama and sci-fi. The codes and conventions of the drama genre are very clearly laid out. In the film, Donnie Darko survives a freak accident involving a plane engine. He explores what it means to be alive and goes through the experience of young love. He has a family, he goes to school and he has friends. All of these things (except for the plane engine accident) has happened, is happening and will happen to the majority of the real life population. Throughout the film, he has an inner conflict with his mental illness through medication and his psychiatrist. His outer conflict is the driving the force of the story, that he has to save the universe from collapsing within a set amount of time. The events that take place force Donnie to develop as a character. There's intense social interaction between Donnie and other characters throughout the film, one notable scene is where Donnie confronts Patrick Swayze's character for giving out advice to his fellow classmates that Donnie deems is wrong.
The end of the film features the song 'Mad World' by Gary Jules played over the tragic end sequence which could stir up an emotional response from the audience. Throughout the film, there are many more examples of these drama genre conventions which are clearly laid out for the audience.
Although Donnie Darko doesn't tick all the boxes, it still has some of the sci fi genre conventions. The driving force of the story is based around Donnie learning that he needs to save the universe from collapsing which is a threat to all life. To do this, he travels to an alternate universe with the help of a seemingly imaginary giant rabbit, Frank. 
There were no special effects or CGI to let the audience know that Donnie had traveled to the alternate universe. He comes across a book filled with very complex theories about time travel which he becomes very interested in and helps him to save the universe. He visualises one of the theories from the book, where everyone radiates a pathway from their chest and this is one of the few times the film uses CGI. 
Overall, the film uses more drama genre conventions than it does with sci-fi, although the whole plot is very science fiction heavy. I think the low key sci-fi genre elements make the film enjoyable and the fact that the director chose not to spoon feed the audience make for a film that stays within the minds of its audiences long after they've watched it.

funfunfun




Student Number

: 733333


Posts

: 4


Join date

: 2015-10-06



Hi melfiol, it is indeed a film full of questions. This kind of film is also categorised often as "puzzle films", which we will discuss in week 12. This kind of films often draw on questions of paranoia, mental health and whether what we see is real or not. The "rabbit" character accentuates and highlights this aspect of the film.

The images for the cinema announcements, posters and DVD covers also create the expectation that Donnie is mentally unstable and dangerous, which lead the audience through one path, only to confront it at the end with a different reality, breaking the expectation and fulfilling the puzzle.

As you mention, the film has characteristics of Sci-Fi, such as time travel, although it is worth noting that it pertains to sub-genres of the supernatural and alternate realities. Therefore, other expectations of Sci-Fi are not fulfilled, such as interstellar travel or spaceships.
funfunfun, that is a great review. It is good that you have paid attention to the soundtrack being played at specific times, as everything in a film has meaning. If it is there, it is there for a reason, and that reason is always linked to meaning.

As you said, it does not follow all expected Sci-Fi conventions, which is the reason why sometimes we need to delimit more and go into sub-genres.

Good work, which pays special attention to genre conventions and expectations.
LSSOMCKA, I think it is good that it was your second viewing, as it is obvious you have reflected on the film beyond the plot, which is usually what we concentrate on during the first viewing, because of the desire to "know what happens".

I like the fact that you and funfunfun have reflected on the drama (as genre) of the film. The supernatural elements of the film that link it to Sci-Fi are dropped slowly and at first we cannot but ask if it is all part of Donnie's mental instability or if it really all that is happening. In that sense, during the viewing, we might even be inclined to The Fight Club, which was released two years earlier, only to disrupt our expectations every now and then with the possibility that all that really is happening, specially after the appearance of the book and the sudden consideration of time travel as something potentially possible.




As mentioned in a previous post, it is good that you have considered the soundtrack as an element of significance, and certainly the theme and the title add another layer of meaning.
Good work!!!
Donnie Darko is famous for its mind-bending series of strange events that take place in and around the psyche of a young man who is strangely haunted by visions of a humanoid bunny named Frank due to mental illness. Frank, however, is neither friend nor foe. He appears frequently to tell Donnie that the world is coming to an end within 28 days. This causes Donnie to attempt to overcome his mental disability in order to seek answers and stop the apocalypse from happening, only if he can commit a series of crimes requested by Frank himself.

The film itself, I feel, is to be taken with a pinch of salt. The first time watching left me both confused and intrigued with a vast array of questions left unanswered. Yearning for said answers, I decided to re-watch the film and do my own research. Those who have yet to watch this film must consider that the story goes almost completely backwards as it revolves around the theme of time travel although the genre is a hybrid of drama and sci-fi. To be more specific, Donnie Darko was made to portray the possible existence of God and the tasks a God would perform to keep order in the universe. This is where Frank and Donnie's relationship comes in. The beginning of the film shows a plane engine crashing through the roof of Donnie's home and right on top of his bed which, if he were present at that time, would have killed him.

The movie is set to begin and end on October 2nd. In the scene where Donnie is sitting with his family at the dinner table, you can quickly pick up that Donnie has not taken his medicine (we later learn that he suffers from paranoid schizophrenia and that he regularly attends appointments with a psychiatrist). Because of this, Donnie begins to hallucinate and 'see' the apparition; Frank. Because of the previously mentioned date, Donnie now believes the world is going to end in exactly 28 days, 6 hours, 42 minutes and 12 seconds. This causes Donnie to concoct a tangible series of universes within his own psyche which tell him what has and will happen in the timeline of the film. Thanks to Frank, Donnie must now 'play God' and bring order to the universe and prevent complete destruction. Most of the entire cast are real beings but a large portion of the film isn't actually happening so he must find meaning behind everything that is happening or is about to happen. The tasks requested by Frank all have a significant part in the story as they change the tangible universe around Donnie, possibly helping or hindering his progress in saving humankind.

The film itself is very entertaining to watch but even more so when you fully understand what is going on and everyone who has watched it has their own theories about what exactly happens. Although the genre is a hybrid, many claim this film is a psychological thriller. I, for one, really enjoyed this film and would recommend it to anyone who enjoys putting a lot of thought into what they watch. While there is a 'solid' explanation on the second disc of the DVD release, I still raise speculation as to whether or not it is an elaborate ruse from the director himself; Richard Kelly. The best possible way to decipher the plot is to leave it up to your own reasoning...

DayTripperTommy




Student Number

: 508915


Posts

: 3


Join date

: 2015-10-07



Donnie Darko (Richard Kelly, 2001) 
Genre: Sci-Fi, Drama 
 
This is my second viewing of the 'cult classic' Donnie Darko, and watching the film more than once is not just something that I would recommend but adamantly encourage. From the offset the film encourages an active audience who is able to interpret and decode the twisting narrative consisting of enigma codes. Donnie Darko is in no way a closed 'text', as many different audience members can decode the film differently. Limiting this film as belonging to one singular genre would be a mistake. The beginning suggests at first elements of the 'thriller' genre, in the opening shot the camera pans towards a body laying on the ground (This is our protagonist, Donnie) as he gets up, the non-diegetic music then suddenly changes from desolate to almost hopeful.
 
On reflection and something I did not noticed on first viewing, Donnie Darko has numerous conventions within the 'coming of age' genre. Wait I'm not crazy! Firstly lets look at setting, seemingly in a suburban almost idyllic town in American, High School student Donnie Darko is a white middle class highly intelligent but nevertheless trouble teenager, he comes from seemly loving parents, even though on one occasion he disrespects his mother by referring to her as a "bitch", the family dynamics is explored further at the dinner table with a conversation on politics with contrasting views between Donnie's sister and his father. The 'Darko' family on the whole seem obscure, but almost in a kind of of conventional 'crazy' family type of manner. Donnie is in constant conflict with the hypocritical, ignorant, religious zealots within his home town, this creates a sense of  entrapment for Donnie (I.e. he's more advanced than the 'small town' folks within his home town)  Another convention is that he ends up having a romance with the 'new' female student who has issues of her own and is one of the few people who Donnie feels any real connection with. 
 
Now I am not claiming that Donnie Darko belongs to the 'Coming of age' genre, nevertheless I definitely think writer and director Richard Kelly was inspired by conventions within this genre of film.
 
In actuality the film belongs to the Sci-fi genre, with themes of time travel being a key component. The first time we hear Frank is the first signs of a tangent universe timeline, that is if you go along with the theory that Donnie is stuck in Purgatory.  During his first encounter with Frank he is told that the world will end in approximately 28 days.  This in actual fact is just the length of time the tangent universe will last for.

 "When a Tangent Universe occurs, those living nearest the Vortex will find themselves at the epicenter of a dangerous new world.
Artifacts provide the first sign that a Tangent Universe has occured.
If an Artifact occurs, the Living will retrieve it with great interest and curiosity.  Artifacts are formed from metal…"  is the Artifact the Jet engine?
 
 
Many different theories have been discussed in regards to Donnie Darko, to me that is the power of a truly brilliant film; a film that can be  analysed, deconstructed and appreciated for years to come.
 
9.5/10

Breaking Bad Jones




Student Number

: 727872


Posts

: 3


Join date

: 2015-10-03


Age

: 23



Donnie Darko is Jesus Christ... Is he not? He died for the greater good of man kind and it can be argued that he had to die in order for the universe to continue (Donnie, not Jesus). So, in regards to genre, the typical sci-fi themes are displayed within this film, yes correct? However, sci-fi is not massively played upon as the sole purpose for this film. Donnie Darko without a doubt screams coming of age but then it beautifully plays upon supernatural conventions in a slightly less dark and twisted way, as we see it manipulate and destruct Donnie's mind. Which also brings me onto the reality of the argument "Science vs God", which I believe is massively played upon throughout this film and there are many scenes that are suggestive of this nature.

Donnie Darko is pure genius because of the debates it can cause, due to the brilliance of its content within the film. It explores many different themes and the content within suggests that the nature of the film is more than just a typical sci-fi based film. Although there are many ideologies presented around the sci-fi genre in relation to this film, there are scenes that question the directors outlook - and what they had hoped the audience would perceive the film as. But, back to the ideologies around coming of age. Gretchen may as well be labelled as "will he get the girl or wont he" from the moment she is brought into the film. Stereotypes form a massive part on their relationship together and it expresses young love which can usually expect to be found in a drama/rom-com genre based film.

The opening scene is representative of what can be perceived as thriller genre and makes you question right from the start, what the story line of this film is. The long shot and heavily played upon diagetic sound gave it, not so much a supernatural feel - but a chilly experience for the viewers to first be introduced to. So, from this it is suggestive of a sci-fi theme which we can believe will be followed throughout the film. Yet, it isn't massively played upon to the extent we could have expected. There aren't many scenes with dark lighting and short snappy camera shots, but in face the opposite  - which once again makes us question Donnie Darko's genre.

Back to the coming of age elements within the film - the scene with Donnie smoking and his sisters awareness of this gives us very stereotypical views of a teenager and his rebellion towards his family. But, having siblings they can bank on to not tell. It's all very real and relatable as viewers to reflect upon a typical schoolboy phase. Also, moving away from that exact scene but still playing on the stereotypes around teenage characterisations - the "hangout" is massively just a typical boys den (kind of like the flat in Fightclub that is just a trashy teenage boys night in and they all create mischief) as they are shooting stuff and just generally moaning about their problems to one another. 

The meaning of the film is something that is often spoken about and explored through wanting to know more about the film. I have been in discussions about the film before, but having only just watched it, it is clear about why it is so easy to obsess over the nature of the film. Donnie Darko does not give you specific answers at all. If anything it questions our questions as viewers, and makes us crave more information about the story line.

Okay, so as a whole and without retelling the whole story, this film explores a lot of different themes and there are many scenes that play off one another. There are elements of narrative foreshadowing and pieces of information we are expected to grasp onto in order to understand further explanations later on in the film.

I think one of my favourite parts of the film is towards the ending and how the sky is turning dark and it is such a key scene in relation to sci-fi conventions. There are many references to that scene throughout the film, for example when someone mentions the "sky opening up" and the constant referring to "portals" as such. The idea of time travel and the concepts based around this are also that of psychological themes and once again, the plot is not just handed to the viewers - you almost have to work for it. But there are some many "hints" lets say, that are given and so many things that are played upon that your own imagination can help to take the film wherever as there is so much to follow up from. This is because there are many philosophical views explored throughout the content. 

Overall it is a "cult" movie and it allows the viewer to think beyond what it is displayed on the screen to them. Whether that be the battle of science vs God, or the destruction of humanity and what is install for mankind. Or, the simple fact of developing upon the struggles as a teenager and doing what is expected of you. Or even perhaps the relation to government and politics and what America means (references to George Bush within the film). Or, the fear of death and ideas related to love and lust and the controlling of ones mind - what impact desire has on the mind. There is just way too much to discuss and that is why the film is so powerful.

hkt95




Student Number

: 744904


Posts

: 1


Join date

: 2015-10-05




---
Permissions in this forum:
You
cannot
reply to topics in this forum