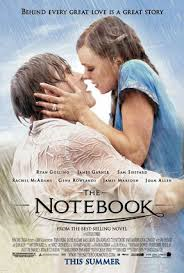 What genre is this movie? What characteristics and genre conventions have you found during the screening? Please post pictures or clips to support your comments, if available.
It is evident The Notebook ((Nick Cassavettes, 2004) is a part of the romance genre through a combination of micro elements including mise-en-scene, sound, editing and cinematography. It is based around an elderly male telling the story of 'a boy meets girl' to an elderly woman who suffers from memory loss, and we later find out he is telling her their love story.
This theme of love is an essential convention within the romance genre, usually disrupted by a conflict, in this case the disapproval of ally's parents which causes the break-up of their relationship. However, a typical convention of the romance genre is a 'happy ending' which the film has, as it becomes evident they live long lies together, have children and grandchildren and eventually die together. It is also typical for romance films to be set in a realistic location (The Notebook is set in South Carolina) and to contain events which cause strong emotional feelings, exemplified through the death of Noah's dad within this screening.
In terms of sound, the film opens with classical non-diegetic music, setting a romantic atmosphere. Slow paced editing and long length of shot are employed throughout the film to create the sense of realism and enabling the audience to be able to relate to the story. 

Tia Mae




Student Number

: 710258


Posts

: 3


Join date

: 2015-10-07



[ltr]

[size=15]Straight away in the Notebook we are drawn into a signifier suggesting that we are about to watch a romance genre. We are introduced to a 

male

 

character whom is rowing a boat on a gentle stream

. T

he 

colour of the shot appears to be suttle red which is a

 

signifier of 

the aspect of 

love. An additional feature in the opening scene is the non-diegetic sound of a piano which again is a typical feature of the opening of a romance film. 

 
[/ltr][/size]
[ltr]

[size=15]Within the diegesis of the film we refl

ect on the summer romance of protagonists Allie and Noah. Typically we then are drawn to a disruption within this relationship with her mother and father not approving of the marriage due to him not being suitable for their daughter. This then causes the characters to go their separate ways. Our expectation for this genre is for the two characters to finally re unite their love in which they do at a house. Cassavettes creates tension between the two characters by using an aesthetic romantic location of them rowing a boat. At this scene the camera cranes high which resembles the swans within the scene surrounding them. A swan is another signifier of love and this promotes that there is love still there

 
[/ltr][/size]
[ltr]

[size=15]Overall I think that the notebook portrays the conventions that are expected from the romance genre. We are taken on a journey with all features of M

ise-E

n-S

cene and cinematography helping us to promote and evoke emotion from the diegesis, with it ending on a happy note for the two protagonists.
[/ltr][/size]

LSSOPODM




Student Number

: 720839


Posts

: 1


Join date

: 2015-10-03




---
Permissions in this forum:
You
cannot
reply to topics in this forum